Well good morning loves! I just adore Sundays. It happens to be my favorite day of the week until I realize that tomorrow begins another hectic work week. But until that anxiety moment sets in I am for the first time linking up with two lovely ladies
Ashley
and
Neely
for this weeks Sunday Social!! The two ladies post random questions and we get to post our answers. Sounds easy right? If you haven't linked up try it now! More followers=more bloggy friends=happiness. Grab the button and link up today!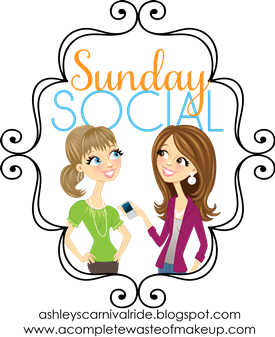 What is your ideal way to relax: Reading blog posts from fellow bloggers, checking out pics on Instagram, sitting on the front porch with a cup of coffee and laying on the couch getting caught up with my DVR shows.

Where is your favorite place to be: On vacation, anywhere but Indy! I love to travel and wish to do it more.

Who do you consider your biggest role model: Aside from my mom, fellow bloggers, I have learned so much from you guys! The good days and the bad days have taught me so much. I hope my blog becomes as big as most of yours!

What does your life look like in 3 years? HOPEFULLY rocking the Social Media world with my blog, hitting the lottery, paying off all debt, having a stacked savings account and have sold my house.

If you could go back and change one decision what would it be? I would have pursued a different career. I would make a great PR. Love photography and cooking so maybe a career in that area?

What is your biggest accomplishment in life thus far? Having my daughter. Everything I do is for her. She is my rock, my inspiration and my world. I can't imagine life without her.

What about you????
Well that wraps up my first ever link up with the Sunday Social! Catch ya back here next week!
Next week's questions:
These are all about 2s!
1. If you were stuck on an island what are the two material items you would want to have?
2. What are two TV shows you'd watch over and over
3. If your house was on fire what two things aside from family, pets, etc would you grab?
4. What are your two most favorite articles of clothing?
5. What two movies that you saw in the past year would you recommend to us?
6. What are your two biggest guilty pleasures?