What comes to mind when you think of an all girls weekend?
Wine? Movies? Bar hopping? Shopping?
Most likely at least a couple of these, right?
Well not for this girl!
The hubs went out of town to help my parents bring back some things they had purchased in Iowa therefore Madison and I had the weekend to ourselves!
Talk about
MomMeHour
for sure!
It had to be one of the best weekends I have had in a long time!
You can spend time with a friend or a group of girls but when you catch up on quality time with your little mini me there is nothing like it!
So let's get to my
Good, Bad and Ugly
of the weekend mixed in with our
Weekend Shenanigans
!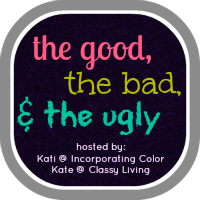 The Good...More like the Greattttttt like Tony the Tiger :) Madison and I began our extravaganza with an afternoon movie date,
The Croods
. Where we devoured a large bucket of popcorn and slurped down a large Dr. Pepper. The movie was hilarious and well popcorn always satisfies our stomachs.
Later into the weekend we took a little visit to the park where we had a nice stroll and enjoyed the fresh honeysuckle that grew nearby! Swinging, sliding down the slides and running around like well four year olds happened of course.
The Bad...
Needless to say we have been less fortunate in gaining good neighbors.
We have subject A who had around 25 cats which were inside and out of the house. Every day we had handfuls in our driveway or front yard.
Then we had subject B who instead of having their garbage picked up would lay all of their trash next to their garage. Piles and piles collected.
Now we have subject C. Actually subjects C-Z because I am really unsure how many people live there. Everyday a different person comes and goes. Their driveway lines up right next to my bedroom window. Therefore every time they shut their car door, side door to the house or decide to talk, yell or scream it feels like its inside of my bedroom or living room.
Long story short around 5:45 am yesterday morning Subject C-D decided to have some kind of argument right outside of my window for about ten minutes. I did what any crazy, startled half asleep woman would do. I marched my way to the front door, went out on the front porch and went to the side of the house and said "Hey! Hey! (Finally getting their attention) I have a four year old sleeping in here, its 6:00 in the morning and you are being too loud! So keep it down!" The man and woman looked at me, apologized and I stormed back inside. I never heard a peep again. I felt bad but REALLY it's called respect! My heart was racing though I'm not going to lie! I am not one to display this kind of behavior!
The Ugly...
Upon leaving work on Friday my front tire decided to go flat on me. Two streets away from work, I mean seriously? It was Friday! Can't a girl catch a break? The
third
tire I am replacing in a week! For the record IT IS NOT THE DRIVER!
I also managed to wear myself out completely after purchasing all of these cleaning supplies and going on a Martha Stuart cleaning frenzy until almost 1am! Madison makes cleaning look a lot cuter than it is!
Don't forget to enter the awesome giveaway that begins today and wish Marquis a Happy Birthday!
RULES
1// Giveaway is open to US RESIDENTS
2// Winner will be notified via email on Thursday 6/20/13 or Friday 6/21/13.
You will have 48 hours from the timestamp on the email to respond, or a new winner will be chosen.
3// WINNER WILL BE VERIFIED!!!
4// View the Terms & Conditions listed on the Rafflecopter below