Good morning and happy Monday!
If you are new around here hello and welcome to Wide Open Spaces!
Each Monday I join a link up called the GBU with
Kate
and
Kati
sharing my good, bad and ugly of my weekend!
I also join a friendly link up called the Weekend Shenanigans with
Sami
!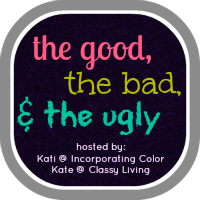 The Good...First off the weather was fabulous! The sun was out and the temperature was in the high 70's. Tim worked this weekend so Madison and I took advantage of the warm weather and spent some time outside playing putt putt! Of course she looked absolutely adorable in her Hello Kitty outfit and did very well at golf. Scoring a par 3 at almost every hole she beat my score! She may become a pro golfer some day!
The Bad...
This may actually be half good and half bad but a co-worker surprised me Friday (National Donut Day) with Krispy Kreme donuts! We have an ongoing joke about who's turn it is to bring in donuts so he generously spoiled me this time! Along with this snack pack of chocolate I left work feeling like my teeth were going to rot and fall out!
The Ugly...
One of our main employees is on vacation so realizing how much stress and what this causes for all of us is a little overwhelming. We will be glad when she returns back to work! Monday is going to be a little harder to deal with this week!
Also, I am participating in a great birthday celebration for Marquis over at
Simply Clarke
!
Make sure you enter the giveaway and give all the other bloggers that made this possible some love.
RULES
1// Giveaway is open to US RESIDENTS
2// Winner will be notified via email on Thursday 6/20/13 or Friday 6/21/13.
You will have 48 hours from the timestamp on the email to respond, or a new winner will be chosen.
3// WINNER WILL BE VERIFIED!!!
4// View the Terms & Conditions listed on the Rafflecopter below
How was your weekend? Are you linking up? Have a great giveaway going on?
I would love to hear about it!