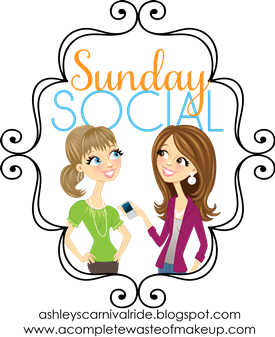 Happy Sunday loves! I am so glad you stopped by my little corner of the Internet :) I am joining two lovely girls for today's Sunday Social! In hopes to find some new friends, share a little about myself and mingle!
1. What is your favorite kind of surprise?
Any surprise! Seriously, it could be a post it note with a piece of candy on my desk or an email sent to me saying something sweet or a full out grand surprise and I am ever so grateful. Just knowing I was thought of by another person completes my day. Some day I wish to be swept off my feet and receive a little pink box with Carmel Eclairs inside so I can reenact my favorite movie,
Simply Irresistible
ha!
2. Flowers or Chocolate?

Flowers! I don't get them often but when I do I feel very special. There is something so unique and special about flowers. Especially orchids.

3. What is your favorite summertime activity?

Swimming! I love to lay out and take a little dip once I have gotten too hot. Playing in the pool with Madison is a blast. Seeing her reaction and how much fun she is having is totally worth it!
4. Do you have any vacations planned this Summer?

Not so far. I have some time off in August but with me just getting back from Myrtle Beach I think I'll stick by the pool, find some things to do around town or take some advice from Madison and kick my feet up like she tends to do!

5. Favorite Summer Holiday?

Fourth of July! Hands down! I love watching the fireworks, buying matching attire for the festivities and spending time with friends and family for cookouts.
2012
2012-pre-4th of July parade

2011

2010

2009

6. Dream Vacation?

To visit Laguna Beach in California, Paris or somewhere exotic like the Bahamas or Hawaii or the Virgin Islands. Anywhere where it is warm, low humidity and has clean beaches and water. I also have to have lots of shopping and attractions! If this girl becomes bored, it's not a good day. I would also LOVE to be able to take Madison to Disney World one day!


Are you linking up today?
I would love to read your answers to the questions above so drop me a comment :)
If you haven't already, add me to your daily reads over at Bloglovin by clicking here:
Have a wonderful rest of the weekend!