I love meeting new people, talking to my current buddies and sharing some random topics! So what better way to do that then to link up with Ashley and Neely for the Sunday Social!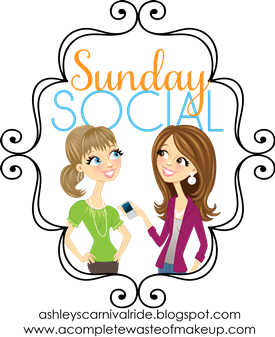 Today's topics are centered around one of my favorite sites, Pinterest!
1. What is your favorite outfit pin?

I usually do not wear a ton of red clothing. Actually I don't think I own anything in red. I have one necklace that has some red color on it but that is it. That's why it sounds very strange that I would pick my favorite outfit pin to be all red! I love the tank top that can be worn alone or under a cover up. The shoes are full of cuteness and well I AM addicted to handbags so this one is a must! The sunglasses are flattering and the jeans are stylish but casual. The entire outfit I could pop into my closet right now!

2. What is your favorite food?

I could seriously spend every day eating fruit or desserts but then I might gain a bazillion pounds and I know I don't have time for that! As a meal item I always go after the meat and potatoes! You can never go wrong with steak if you order up the right piece of meat and well mashed potatoes are addicting for me! Smothered in butter or topped with cheese and bacon makes for a mouth watering experience!

3. What is your favorite wedding pin?
These shoes are fabulous and I never got one picture of my shoes during my wedding photo shoot. I wish I would have gotten my entire bridal parties shoes along with mine. Everything revolves around a girls shoes ya know :)

4. What is your favorite DIY/craft pin?

I have had this project saved for about a year now and need to get started as soon as possible! Madison has collected stuffed animals over time and we need a storage space. I love this idea!
5. What is your favorite quote/verse/lyric pin?

Oh how I have a ton of meaningful and heartfelt quotes that come to mind but the only one that has stuck with me is when I watched the season finale of my all time favorite show, One Tree Hill. The entire cast recited something that will stick with me for years to come

6. Share one more random pin you love.

I felt this was only appropriate...
Have a great rest of the weekend!
Enjoy every moment!