Hey there! How was your weekend? I had an extremely eventful busy weekend! Lots of fun and fabulous things happened! I love Mondays because I get to share all of the great details!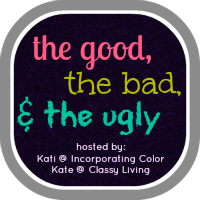 The Good...Madison is turning four tomorrow (blog post to come tomorrow) and we threw her a big Strawberry Shortcake party to celebrate! Everything from the cake, decorations, presents and the arrival of her friend (Elf On The Shelf) Lucy it all turned out to be spectacular!
The Bad...Due to the planning, shopping, running around and stress of everything that I have been doing I have managed to lose 5 lbs. Most people would think this is great but when you hardly weigh anything to begin with it makes a huge difference, trust me I have heard it from everyone. It's not like I try to be skinny. It's in my
jeans
genes.
The Ugly...I decided to snag some dinner at my first place of employment,
Edwards Drive In
last night. I ordered a shrimp dinner for myself, hey what can I say I wanted something different. On the way home the shrimp began to fill the car with its fishy smell and caused my stomach to turn. Even though I love the taste of shrimp, driving in a car with it was not an experience I care to ever encounter again.
I am hoping that the rest of the week flies by and comes to an end soon. I mean my vacation
IS
right around the corner :) Have a great Monday loves!