Ah it's Sunday and my most relaxing day of the week!
Why not stay inside, snuggle up under a blanket and make some new friends?
That is what the Sunday Social is all about!
I am linking up with some great girls

Neely

and

Ashley

to share more about myself and to get to know you!
Grab the button below and join in if you haven't already!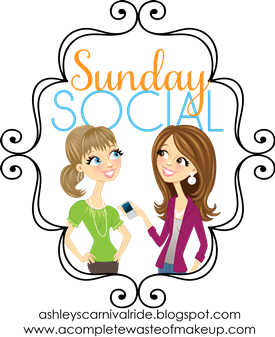 This Weeks Questions In Fives:
1. 5 songs you'll listen to for the rest of your life?
Locked Out Of Heaven Bruno Mars: Love the beat and the lyrics
Pearl Katy Perry: The lyrics move me and I adore this pretty girl
Hard To Love Lee Brice: Great meaning and gotta love country music every once in awhile
Why You Wanna Jana Kramer: Loved her in One Tree Hill and her music is even better!
2. 5 things on your bucket list?
Visit Paris or France, ah standing under the Eiffel Tower would be amazing!
Hit the lottery! I literally chuckled at this one! I could never get this lucky!
Open a photography studio, have I told you I am OBSESSED with taking pictures?
Sell our house, buy a new one and decorate it like a home interior design magazine!
Take Madison to Disney World! Hey I am a kid at heart, I can't wait to go!
3. 5 celebs you'd love to hang out with for a day?
Giuliana Rancic: Great clothes, great personality, great everything. Her picture is next to the word AWESOME in the dictionary!
Jennifer Anniston: She is an idol and seems very down to Earth.
Sophia Bush: OTH I was addicted! It would be awesome to grab coffee with this amazing lady!
Justin Timberlake: I might faint as soon as I looked at him!
Channing Tatum: Melting even thinking about this ever happening!
4. 5 things you always carry on your purse?
Lip gloss, you can NEVER have too many tubes! Currently wearing this little goddess!
A mirror, you never know when you might need to break out the makeup bag or check for that spinach in your teeth!
My billfold. Currently I have a cheap Target zebra striped one. The purse is Coach so that's a bonus!Aspirin! With the daily stresses of life and crazy days at work I tend to get a lot of headaches.
My phone. I own a HTC One X. I have this on me at too many times out of the day. What can I say I'm hooked! That's why I make time for my MomMeHour!
5. 5 books on your reading list?
I honestly do not read that much. The books I have managed to read in the past year are (starting with the last one read to the first)
Ellen DeGeneres, Seriously I'm Kidding: what a great read! I read it in about a day! I highly recommend it!
Sylvia Day's Crossfire Series: Almost identical to Fifty Shades! I am counting down the days until June 4th to get the last book of the series
E.L. James Fifty Shades Of Grey Series: Who hasn't read this? If you haven't PLEASE go buy a copy, you won't regret it!
Nicholas Sparks, The Wedding: Have you seen the Notebook? Thought it ended there? Well it didn't! Few people have read this book but it is fabulous and an easy read!
Tori Spelling, Mommywood: If you have children you will completely fall in love with this book and understand the heartfelt words.
6. Share the last 5 pictures on your phone:
Ok here ya go! It was

MomMeHour

, we played Go Fish and Madison did her hair in crazy styles!
"Sunday clears away the rust of the whole week"