I'm back again and ready for Tasty Tuesday! A link up that I participate in along with
Alissa
and many others. You post a recipe you want to share and include step by step instructions with pictures for each step or show pics and post the entire recipe with ingredients at the beginning or end. However you want to share it! So, if you haven't already grab a button and get started today!
Wow it's December and you know what that means. Trying NEW recipes that WARM and SOOTHE the soul. The first thing that comes to my mind is WARM apple crisp and ice cream. I found the PERFECT recipe in a passed down family recipe book. Follow these few easy steps and ENJOY!
First you will need:
8 cups of apples or 6 large apples
1/4 cup sugar
1sp. cinnamon
1/4 cup hot water
1/2 cup butter
3/4 cup flour
1 cup brown sugar
First pre-heat the oven to 375 degrees.
Take the 6 apples and chop them up into small to medium sized chunks.
Place them in a 8 X 8 baking dish.
Mix the cinnamon and sugar together
Pour the cinnamon and sugar mixture over the entire dish of apples
Pour the water into the side of the dish. In a separate bowl, cream the butter. Then add the flour. Then add the brown sugar. This will make a dough like substance. Spoon the mixture onto the apples until most of the apples are covered. Place the dish into the oven and set your timer for approx. 45 minutes.
Scoop vanilla ice cream into a bowl and top with the apple crisp. Serve warm!
Sounds tasty huh? Well, it is! Let me know if you try it out or if you have a recipe you would like to share! Link up every Tuesday with
Alissa
and share with all of us some of your favorite recipes!
Bon Appetit!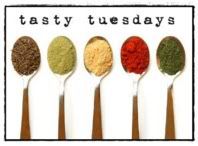 ~Brooke~